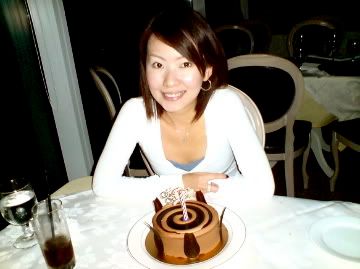 This is my first birthday cake for 2008!
After a great dinner!
i am 26 already!
Its counted as one more year gained once you blow out the candles right?
sweet bunch of friends i have!!
Thank you Xq, Zw and P.
my bday present from the lieutenant is on its way... just checked it from usps.com
International Dispatch, March 20, 2008, 8:19 am, LOS ANGELES
Processed, March 20, 2008, 8:18 am, LONG BEACH, CA 90810
Processed, March 18, 2008, 6:55 pm, TUCSON, AZ 85726
Acceptance, March 18, 2008, 9:52 am, CORTARO, AZ 85652
so exciting!
Birthdays are sooo fun!