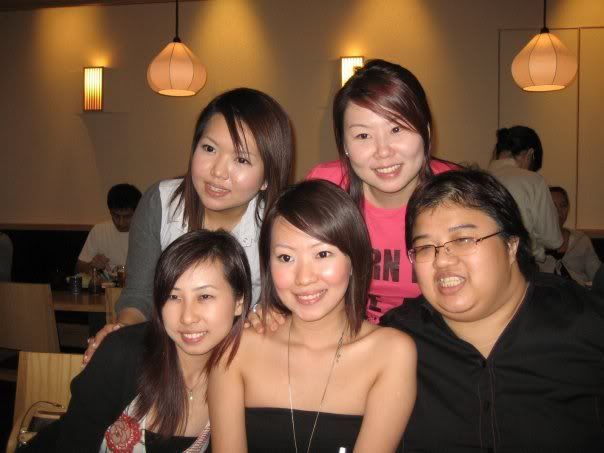 Thank you for spending time with me and for giving me such a beautiful time and many great presents!
I am really very touched.
I am sooo lucky to have you gals as my milobabes and you gals really made me very happy.
I had a very enjoyable birthday and it has been ages since i've last been to a ktv with you gals!!!
Chris still only wanna listen......
Yenwen is a juke box who knows many songs...
Jenny the pirate downloads alot but refuses to sing much... but glad she did sing abit towards the end!!!!
Christine the ang moh babe who sang many english songs with me, for us!
Well, i believe that we should not take friends for granted and though i suspect that you all should know it, i still wanna express my heartfelt thanks to you group of greatest babes.
THANK YOU!!!!!
You group of people are the funniest "invisible readers" in my blog but i love you gals all the same.
The extended-gal could not make it that night but i could sure feel her love and well-wishes for me all the way from Cameron Highland!
We had the world-greatest-mum who had to bring Justin to the doctors but still made it for the dinner. Thanks for making the effort to be there!
i am wearing the sweetest necklace tomorrow
I have already read "The Missing Piece" twice today.
I have already kept the cards in my "treasure box"
I will be taking the handcream out everyday from tomorrow onwards.
I have already started eating the 2 boxes of chocolates
People come and go, friends, likewise.
Its so common its almost normal!!
But not us.
Happy times is all that matters.
For some of us, we've been through rough times too but here we are, as besties again =)
To me, Nothing has changed.
We all have our own traits that may or may not be pleasant to others but as friends, we just take each other's nonsense, carry on laughing and share life together.
I always hold the friendship that matters in my heart.
I am really, really thankful for you bunch of greatest friends =)
May we be like this for a long long time, to be a source of support to each other, to witness life together even when we have our own families, even when we are old grannies.